**Puzzledly has discontinued this puzzle and has renamed it (previously named "Oriental Vibes") to Vibes. We currently have 66 left in our inventory. Puzzledly is pledging to donate $2 for each remaining "Vibes" puzzle sold to North Carolina Asian Americans Together. As of January 29, Puzzledly will be mailing this puzzle without the original box packaging (that is named "Oriental Vibes"). Instead, the puzzle will be packaged inside of a sturdy plastic bag and fabric bag - to ensure no pieces get lost on the way to you. We will also include a poster of the puzzle image for reference and 20% off discount for your next order. This puzzle is final sale and not eligible for returns.**
Allow your senses to be aroused by this paisley inspired pattern in vivid oranges, purples, and blues. Enjoy the glossy, sturdy feel of each puzzle piece in your hand as you assemble this beauty while looking forward to the sense of accomplishment you will achieve once your creation is complete.
Product Features
1,000 Piece Puzzledly Jigsaw Puzzle
High gloss, perfectly locking vibrant pieces
A bonus poster of the puzzle image is included with every Puzzledly jigsaw

 

puzzle for help in solving. Hang it up for reference while you work on your puzzle.
We use 100% recycled material for all our puzzles and boxes
Featuring a finished size of 29" x 20"
In 2019, four puzzle enthusiasts had an idea. After discovering what was a shared frustration in their inability to find a puzzle they could not wait to tackle, these four women started tossing around the idea of creating their own puzzles. These women, who also happen to be related, not only love to puzzle, but they love a challenge — especially competing against each other. The idea evolved while on a family vacation, where of course a puzzle was in tow, and the initial framework of what was soon to become — Puzzledly was developed. They each envisioned vibrant, artful puzzles of the highest quality. They imagined reaching for the untapped puzzle potential that was just not available in the market at that time. They pictured other families sharing a similar bonding experience when building together, complete with colorful stories and belly laughs.
Over the span of 6 months, they searched high and low for the perfect images, eye-catching shades, and stylish designs for their jigsaw puzzles. When their first shipment arrived they could not wait to break their first set of 5 puzzles open. 3 puzzlers set to work in North Carolina while the fourth eagerly awaited for hers to be shipped to New Jersey. They each set right to work. Texts were sent, calls were made, and photos of their progress were sent. None were disappointed. The puzzles were perfect! They were stunning, creative and fun! They were challenging, yet achievable creations that fed their competitive nature and stimulated their minds. 
These four puzzle enthusiasts had an idea …. and Puzzledly was born. Ready to join them?
Customer Reviews
Write a Review
Ask a Question
I loved the challenge of this one. It took longer to put this together than usual for me. So, I feel like I really got value for the price. The pieces were thick, stayed together well and the finished puzzle is so pretty. No wierd chemical smell when I opened the plastic bag and all the pieces were there. I really enjoyed this one!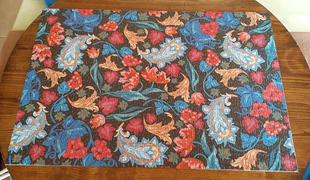 07/11/2021
Anonymous

United States
02/11/2021
Rachel P.

United States
11/18/2021
Grace G.

United States
A Perfect Gift For The Hollidays !
I recently bought this puzzle for Christmas to give to my lovely grandma. She is my #1 supporter and also a puzzle addict. I saw the vibes puzzle and instantly I bought it! I love how vibrant and pretty it is. Love you grandma if you see this!!
09/29/2021
Victoria P.

United States
Great Puzzles
This puzzle was definitely challenging to put together, in a good way! The repeating pattern was a great challenge and had me not only looking at the image for clues, but also the individual piece shapes. Great fun!
05/13/2021
Anonymous

United States
Vibes
A good puzzle; clean cut, no dust; no pieces stuck together on opening; good colors; fast delivery. Very satisfied.
04/17/2021
Anonymous

United States
fun puzzle
Really enjoying the puzzle. Just got the frame together. The pieces fit together well. Will tackle the rest slowly. This is a challenging puzzle which I like. Working on it is strangely relaxing. If you are a real puzzle fan, this one is for you.
03/31/2021
Elizabeth E.

United States
Love it!
Great quality! Difficult and so pretty once completed, can be hung as a pretty boho inspired picture.